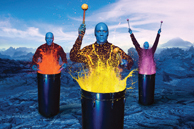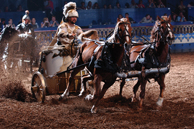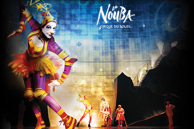 Cirque du Soleil - La Nouba
The show name La Nouba originates from the French phrase "faire la nouba," which means to party, to live it up. It is a world where dreams and reality intertwine as the urban and circus worlds meet on stage. Blending acrobatics, dazzling choreography, whimsical characters and live music, La Nouba stimulates our imagination from beginning to end. Only at Walt Disney World® Resort in Orlando, Florida.
Arabian Nights
Arabian nights is a dinner show that brings a fairytale to life on horseback. Beautiful horses from around the world are showcased in the world's largest indoor equestrian arena for a permanent show. The majestic display of of breathtaking horses and colourful costumes combine to create a celebration of horses and riders. The show captures your attention the moment The Black Stallion enters the palace, to the climatic conclusion of the tale. Arabian nights has been voted number one dinner show.
Blue Man Group
The incomparable Blue Man Group combine music, comedy and multimedia theatrics to create a blissful party atmosphere that people of all ages agree is a totally outrageous experience. Now they bring their eclectic mix of live music, imaginative percussion instruments, and unexpected humor to their new home—the Sharp AQUOS Theatre at Universal Orlando Resort.
Pirate's Dinner Adventure
Pirate's Dinner Adventure is an energetic and adventurous, interactive dining experience, captivating audiences of all ages. Guests set sail on the high seas aboard a pirate ship for swashbuckling thrills, combined with the perfect blend of comedy, romance, action and adventure. Pirate's Dinner Adventure is a bounty of hidden treasure waiting to be explored. Guests experience breathtaking feats of aerial agility and spectacular musical talent as they dine on a delicious Port of Call Feast. With more than 100 guests of all ages invited to don costumes and play a part in the evening's adventure, the attraction is widely known as "The World's Most Interactive Dinner Show."
Medieval Times
Medieval Times is an exciting, family-friendly dinner attraction inspired by an 11th century feast and tournament. Guests are served a four-course banquet and cheer for one of six Knights competing in the joust and other tests of skill. You can expect almost two hours of jousting, swordsmanship, thrilling hand-to-hand combat, displays of extraordinary horsemanship and falconry as part of an exciting yet touching story set in Medieval Spain.