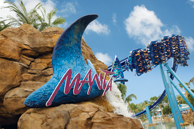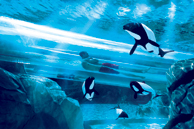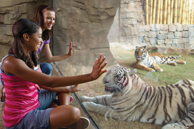 Busch Gardens
Discover Busch Gardens® the extraordinary African themed park! It brings together an unrivalled combination of rides, animals, and shows. The floorless dive coaster, SheiKra® takes you 200 feet up, then hurtles you 90 degrees straight down at speeds of up to 70 mph! Then, take a self guided tour around one of the beautiful animal habitats. Jungala gives you the chance to come face-to-face with some of the world's most endangered animals, Bengal tigers and orangutans. Once your feet are firmly back on the ground, you're invited to experience the stunning Broadway style show, KaTonga®. There's much to explore for adventurers young or old.
Seaworld Orlando
This is SeaWorld® - the world's best loved marine park! Take a seat at the sensational shows, enjoy up-close animal encounters and take the plunge on one of the thrilling rides. The spectacular Shamu® show, Believe® will leave you breathless. Get up-close to animals in Wild Arctic®, aboard a jet-copter simulator ride. Then challenge Orlando's tallest and only floorless coaster, Kraken®! Discover the world of Manta – and fly face-down through the sea and sky, this is the next generation in SeaWorld thrills – now open! Explore, enjoy and smile until it hurts - it doesn't get any closer than at SeaWorld Orlando!
Aquatica
Introducing Aquatica™ - a whimsical, one-of-a-kind waterpark that's only in Orlando and could only come from SeaWorld. Where one river floats you through an undersea world of colourful fish and another races you into rolling rapids. Slides that spin and soak you, and the incredible signature ride Dolphin Plunge® – two awesome tube slides that send you speeding through a lively lagoon filled with playful Commerson's dolphins. Delight in the serene-to-extreme waters in the gigantic double wave pools and soak in the sun (or the cooling shade) on white sand beaches. Aquatica is where the fun is as endless as the sea itself.
Discovery Cove
Welcome to this exquisite tropical island paradise. Discovery Cove® gives you the unique opportunity to swim and play with a beautiful Atlantic bottlenose dolphin, snorkel amongst tropical fish in the Tropical Reef, glide with rays and relax on white sand beaches. As a reservation only experience, which is limited to a capacity of about 1000 guests a day, it's a rare opportunity to set your own pace. Offered on an all-inclusive basis with breakfast, lunch, snacks and drinks included nothing is going to tax you…
Life is good! It's all about a day of wonderful discovery and a lifetime of memories.
©2009 Busch Entertainment Corporation. All Rights Reserverd.